About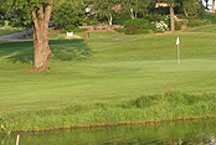 Hiawatha Golf Club is a stock-held and member-owned course which was opened as a nine-hole course in 1959 with an additional nine holes added in 1994. Integrating the old and new nines over the years has created a scenic, rolling par 72 with yardages measuring 6550 from the blue, 6293 from the white, 5150 yards from the gold, and 5056 yards from the red tees.
Hiawatha offers annual memberships along with daily course fees. With just a phone call or click of a mouse, tee times may be reserved up to two weeks in advance. We offer group rates for tournaments and other outings. Other amenities available at the course include a full driving range and putting green, a full pro-shop, and a comfortable lounge with a short order grill. With the clubhouse and patio seating, we can accommodate most size groups and outings. Please check with our professional staff to see how we can assist in planning your event.
As Hiawatha is a member-owned course, we encourage everyone to take advantage of our offerings. We currently have about 1150 shares of stock with over 800 shareholders. As a shareholder, you are entitled to discounted membership rates, voting rights at the annual shareholder meeting, private ownership of a cart, and the opportunity to serve on the nine-member board.
Our in-house associations are also very strong. For the ladies, Monday night offers up games and other events on the course while Wednesday night is league with a nine hole shotgun start. For the men, Tuesday is league with shotgun start on the entire course. Thursday is Men's Day with standing tee times. For the youth, we offer a series of free group lessons and the annual parent-child tournament which is always a fun filled day.
In addition to the internal benefits of annual membership, we also offer reciprocating rounds at a number of local courses. Call the pro-shop for more details.
We hope to see you at Hiawatha Golf Club soon!