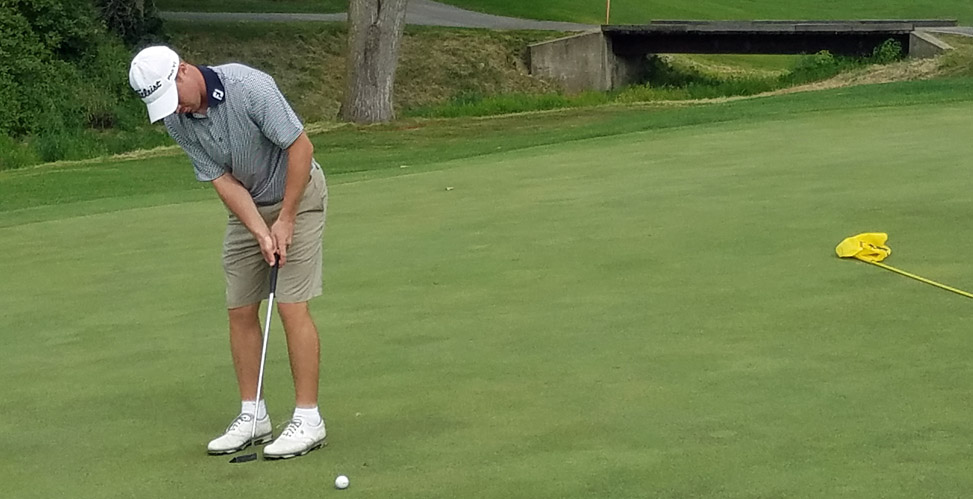 In the most dominating performance in the 24-year history of the TRGA, Ben Skogen won the TRGA Championship Tournament by 21 strokes. Skogen, took control of the 36-hole event with a first-round 69 at Forest Hills Golf Club on Saturday. The Onalaska, WI native led by seven strokes going into the final round on Sunday at The La Crosse Country Club. He quickly took total control, shooting a 2-under-par 34 on the front nine. After another 34 on the back nine, Skogen had a 4-under-par 68 and a two day total of six-under-par 137. "Playing La Crosse Country Club at 7,100 yards felt like a college tournament" said Skogen, who played four years at the University of Wisconsin. "It was a really fun weekend."
The battle for second place was tight. John Percy shot 158 for two rounds. Mitch Sobotta and Mike Drugan tied for third place at 160.
Bruce Lindseth cruised to the First Flight championship. He shot 73-81 for a 154 total. Cris Marish finished second with a 161 (82-79) total. Randy Olson was third at 163 (80-83).
In the Second Flight, Randy Blank came from behind to earn a one-shot victory over Joey Arneson. Blank battled hard for a two-day total of 169.
Scott Hackworth also won by one shot in the Third Flight. Hackworth shot 88-85 (173) while David Deetz finished at 88-86 (174).
In the Gold Flight, TRGA veteran Ron Puestow held off Jason Elskamp, a TRGA rookie. Puestow finished with a 36-hole total of 191, while Elskamp settled for a 193.
Krista Drewiske won the Women's Flighted competion. Terry Ziegelbauer was second.
The TRGA Season Awards were presented at the banquet which followed the final round. Skogen won the Championship Player of the Year. Lindseth won the Flighted Player of the Year. Puestow took home the Gold Flight Player of the Year. Ziegelbauer won the Women's Flighted Player of the Year. And Bjorn Berg was the winner of the TRGA Sportsmanship Award.